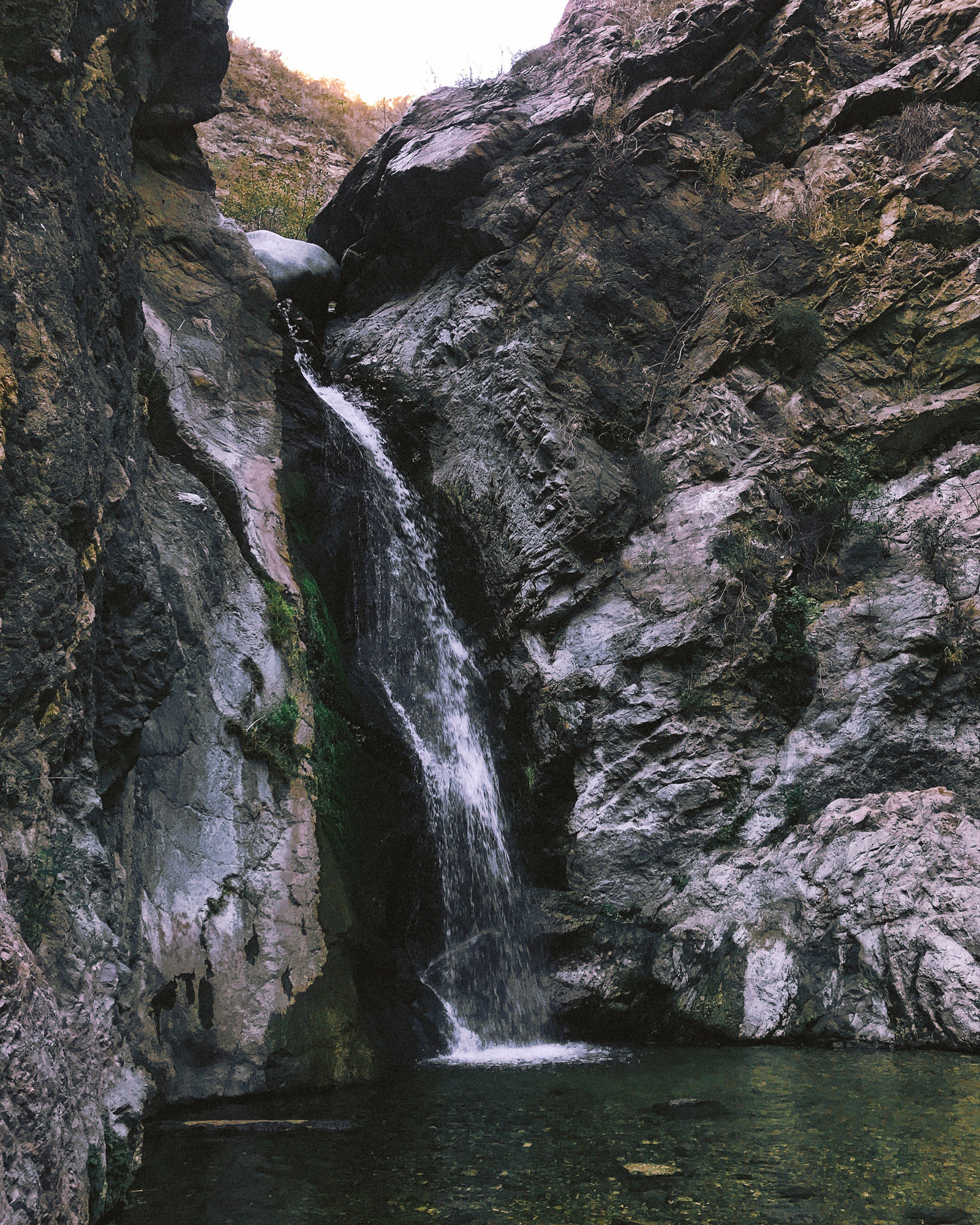 377 elevation gain
moderate
dog-friendly (leashed)
out and back
First of all, those of you who knew there was water AND trees down here (so-cal) and didn't tell me, shame on you. Secondly. Hello EATON CANYON FALLS!
So, I've recently come to the conclusion that I am a pretty habitual person. As much as I like spontaneity and adventure, I also really like knowing what I'm getting into. It's not the first time I've come to this conclusion, but when a friend suggested we try hiking something new I popped onto AllTrails (if you like to hike and don't have this app, you need it, like.. yesterday) to look for a hike and realized how much I havent seen or explored. I think a big part of my love of routine is that I recognize new things are risky, and why be risky, especially close to home, when I know there are trails I already like? But hiking Eaton Canyon Falls today was a sweet reminder that risk is almost always worth it in one way or another.
THE HIKE
1999 Veranada Ave, Pasadena, CA 91107
377 ft elevation gain
moderate
dog-friendly (leashed)
out and back
Eaton Canyon Trail starts right outside the big, free parking lot. It's about 3.6 miles out and back, with some really great mountain views and a 40 foot waterfall at the end. I put the location for this hike as Los Angeles, but technically I think it's considered Pasadena/Alta Dena.
We showed up at 7:30am on a Sunday, right when the parking lot opened, and I was shocked to see how many people were there and ready to hike. I definitely thought we were going to be the only people there that early, come to find out this is a really popular and well known trail. So, be ready for lots of fellow casual hikers. I honestly can't imagine what the hike would be like at a more reasonable hour, but even as heavily trafficked as it was at 8am, I'd say it was definitely worth it.
I slapped a moderate on this bad boy because there is a fair amount of traversing back and forth across the creek that comes down from the falls, but if you do any sort of physical activity I would say this trail could pass as easy. The hardest part for someone who knows how to hike would probably be keeping your shoes dry. It can get a bit hairy in some area's with boulder hopping, but I found the traversing to be a lot of fun on an otherwise easy hike. The scenery was beautiful; sometimes I forget that trees exist down here.
The trail itself is pretty straightforward. Follow the large groups of people. Kidding, sort of. The only real note I have is when you get to the bridge (which is pretty dang cool) look for the trail marker on the right side before you cross the bridge. My friend and I were talking and we totally missed it, climbed the big hill to the street and looked at each other super confused, like, was that it? where the crap is the waterfall? hah.. So, bridge. Keep your eyes open!
While the hike isn't the most intensive the payoff is totally worth it, provided you go when there is water. The waterfall, which is actually pretty impressive, was a refreshing sight and the prince LOVED running through the clear water at the base of the falls. There were people sitting around, enjoying and snapping photos. We didn't stay long, but even now as I write this it feels kind of magical to know there are beautiful waterfalls hidden in the mountains just outside my routine.
happy hiking, beauts
xx